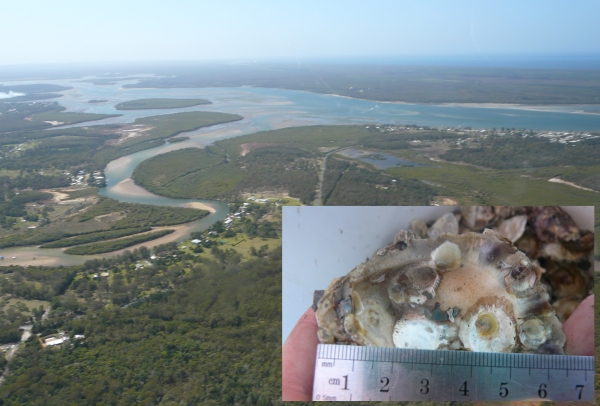 Shellfish reefs (oysters, mussels etc.) are "the lungs" of healthy estuaries, providing various "ecosystem engineering" services including filtering to clean the water, nutrient uptake, shoreline stabilisation and food  and shelter for fish and crabs.
However, today less than 5% of historical shellfish populations remain in Pumicestone Passage, due mainly to declining water quality which disrupts their breeding cycle.  Loss of subtidal shellfish reefs results in lost fisheries production and nutrient assimilation capacity which then causes other undesirable ecological outcomes such as declining stocks of fish and crabs, and turbid water which reduces survival of seagrasses. This video from the USA highlights the various reasons why we have lost oyster reefs in Moreton Bay, and why we need them back.
Our goal is to scientifically examine the best methods of restoring subtidal shellfish reefs in Pumicestone Passage and quantitate their effects on improving water quality and fish habitat in the Passage and Moreton Bay.  This is one of several similar projects that have started recently in Australia, for more details on the national situation, see  www.shellfishrestoration.org.au or follow the Australian Shellfish Reef Restoration Network at https://twitter.com/ShellfishReefs.
For more background information on our local project read the National Environmental Science Program report on shellfish reefs in Southern Queensland HERE, and view the presentation  Putting the reef back into "Ridge to Reef" Catchment Management for Pumicestone Passage, a presentation to BIEPA by Dr Ben Diggles HERE.   You will enjoy this video of fish associating with some shellfish reef trial substrates in Pumicestone Passage, while some recent media on our project can be found on Radio, TV  and in newspapers.
Trial shellfish reef modules were deployed into Pumicestone Passage on 12th December 2017 – for more information see our Map and Research Priorities pages.  To protect the trial shellfish reefs from damage, we ask that water users do not anchor in the trial area. Help support us as we work towards emulating the success of overseas shellfish reef restoration projects !  See the video on shellfish reef restoration in Chesapeake Bay for more details.
Shellfish are "ecosystem engineers" that work tirelessly to maintain the health of our estuaries